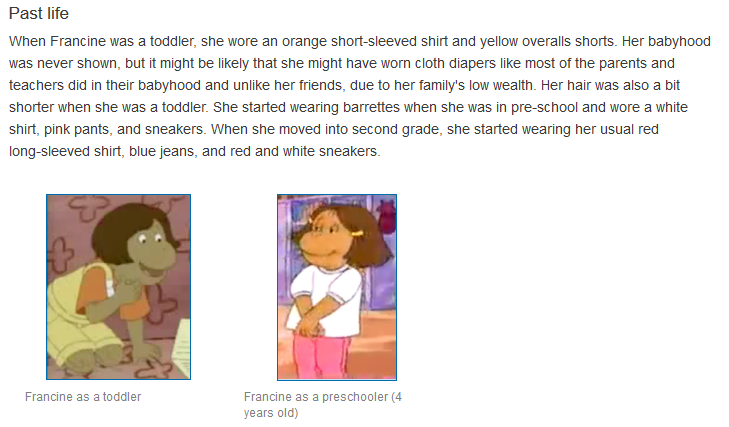 She was so poor she wore cloth diapers?
When and where was this confirmed?
Patrick lives at Westboro apartments too doesn't he
Yeah I get Francine is poor, I did not think she was cutting coupons and living like a hobo though!!!
Cloth diapers....?
Actually they tend to be more expensive nowadays
sorry it just cracks me up
maybe someone with more knowledge can explain,.........
Slums Mama





Posts

: 5394


Join date

: 2015-02-10


Age

: 29


Location

: Where the wild things are



Wiki articles for main characters are infamously unreliable because no one wants to do hard research for them. Unless you want to go through 19 years of episodes, it would be way easier to just write about a single-appearance character. The usual people who edit main character pages make speculations like that, but this must be from a really old edit or else we would have reverted it when we saw it.

Anyway, thanks for spotting this. I'll edit it immediately.

Edit: I saw the picture of "Patrick" from your other post. That would actually be Steve, but when he is coloured grey he is treated as a separate character.
Bunny Loremaster!





Posts

: 244


Join date

: 2014-08-21


Age

: 869



Thank you for responding. I thought the misconception was just that, a misconception of Francines family and suspected wealth.
Oh, so the character in 1001 dads is called Steve?

Patrick lives at the same apartment building as the Frenskys though, right?
Slums Mama





Posts

: 5394


Join date

: 2015-02-10


Age

: 29


Location

: Where the wild things are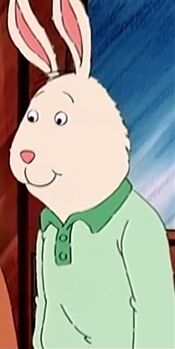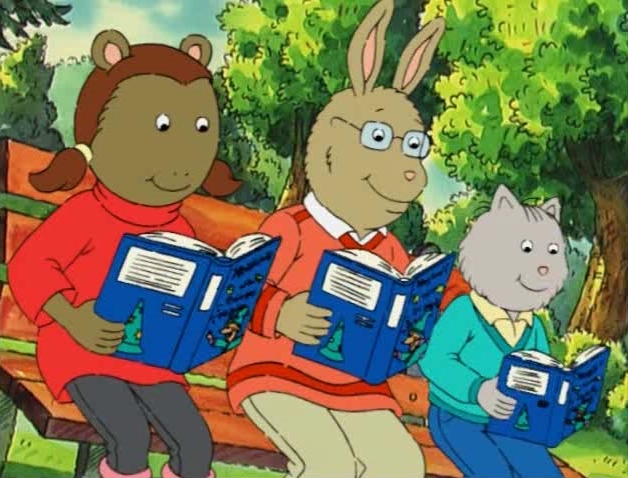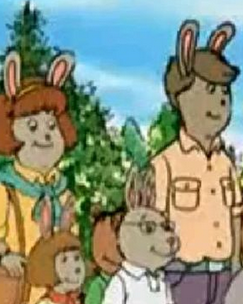 Whoa, I've never noticed that before... the grey rabbit boy actually does look more like Patrick than Steve. (Patrick is the white rabbit, Steve is the tan rabbit.) It's probably because everyone posts super small or blurry images, so the glasses were the easiest detail to notice. But looking at them side by side, grey rabbit's face is nearly identical to Patrick's.
In "Poor Muffy", grey rabbit's mother was seen in the apartment underneath Francine's, so if the family lives together, then, yes, grey rabbit boy would live there as well.
Bunny Loremaster!





Posts

: 244


Join date

: 2014-08-21


Age

: 869



oh so there lies my confusion?
Grey rabbit boy does resemble a tanned Patrick.
oh yeah, I forgot Patrick has no glasses and is clearer in pictures than Steve and anonymous grey rabbit
Slums Mama





Posts

: 5394


Join date

: 2015-02-10


Age

: 29


Location

: Where the wild things are





Similar topics
---
Permissions in this forum:
You
cannot
reply to topics in this forum