Season 4 begins airing on the PBS Kids 24/7 channel and livestream on Monday (3/20). This includes "D.W.'s Library Card/Arthur's Big Hit". Looks like it has only aired a couple times in the past 5 years, so watch it while you can!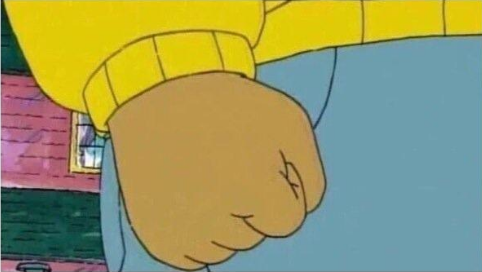 Thoughts about the episode? I remember as a kid, it was always one of me and my brother's favorite episodes. The whole punching scene is so well done. The build-up is really great... the storm raging outside... Arthur's anger compared to D.W.'s innocence... makes for good TV haha.
D.W.'s Library Card is another good one. I like how crazy D.W. gets just to care for a library book (oven mitts lol).
Bunny Loremaster!





Posts

: 156


Join date

: 2014-06-13



I always loved D.W.'s Library Card. For Arthur's Big Hit my brother laughed at Binky the whole time. I thought it was typical sibling feuds and pretty forgettable.
Downs Clown





Posts

: 384


Join date

: 2015-06-05


Age

: 21


Location

: Prison



I think it's a good episode. It focuses on issues that kids need to learn about: why do we need to keep our negative emotions under control and what would happen if we didn't. It's done in a pretty innocent and entertaining way too, I can't imagine why the American TV executives made such a big deal out of it. Probably because of the crazy levels of political correctness that swept the Western society though.

Very Bad Person





Posts

: 322


Join date

: 2016-12-11


Location

: Russia



Absolutely agreed. It always was one of my favorite episodes. I have no idea why so many people have such a big problem with it. The episode was amusing from beginning to end, and also showed an interesting side to Binky, as well.
Village Idiot - Administrator





Posts

: 4836


Join date

: 2014-01-26


Location

: Florida



You think you know a person, but poor DW found out his brother is far different to how he normally represents himself.

This kid is angry! I wouldn't want to come up against that in a dark alley.

Little Miss Mod - Moderator





Posts

: 46


Join date

: 2017-07-20


Location

: Elwood City - Crosswire Estate.



The highlight of this episode is definitely Michael Yarmush's hammy delivery of "I TOLD YOU...NOT TO TOUCH IT!" As far as I'm concerned, he only said that to me once when I stole second base. Sure was glad I wasn't wearing my face then.
Shady Character





Posts

: 31


Join date

: 2015-06-07



well is seen it an it was pry good tbh.
Pregnant





Posts

: 3586


Join date

: 2014-03-14


Location

: $ac



---
Permissions in this forum:
You
cannot
reply to topics in this forum