This is probably me just being nit-picky, but what is Arthur portrayed as the "husky" one in this episode? (as a side note, do people even use the word "Husky" anymore?). It should clearly be Buster. He's always portrayed as lazy, eating, and sleeping. Arthur is usually active, since he walks everywhere and is doing things. Or Binky. He's already a bit overweight. Is it to show that anyone can get fat? But Arthur's still not a good choice. And DW is annoying in it (making fun of Arthur), but that's just standard DW for you. If she's not being rude, it's not DW.
Shady Character





Posts

: 33


Join date

: 2014-09-16



i agree that it was an odd choice, but to be fair, arthur does eat a lot of sweets...
i've also noticed that he can also be a bit of a slob in some episodes, lol.
White Rabbit - Global Moderator





Posts

: 2396


Join date

: 2014-03-26



I guess DW's fantasies about him stuffing cake down his face were true.
At least he eats vanilla cake, and not that chocolate cake. Truly a good man.
Shady Character





Posts

: 33


Join date

: 2014-09-16



Then there was this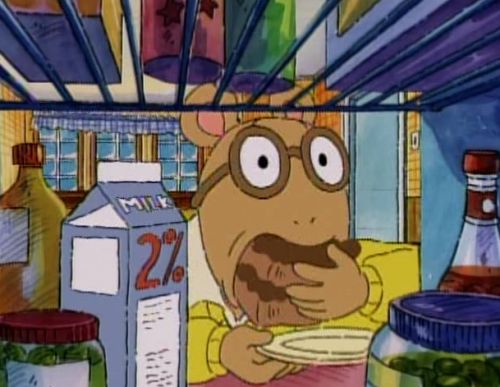 Queen of the Buckwild Frontier





Posts

: 454


Join date

: 2014-02-06


Age

: 32


Location

: Lakewood, Ohio



Personally, as a child, I never heard the word "husky" until I saw this episode. As I've grown older, I have noticed the word used here and there, sometimes on certain styles/brands of clothing mainly. I wonder why they didn't just say that Arthur has to wear "XL" sizes? Seems like kids would more easily understand the concept of "extra-large" rather than "husky".

I tend to agree with the discussion above, though. It does seem odd that Arthur would be one to gain so much weight, but looking back at his eating habits, it actually makes sense lol. Arthur sure does like his desserts.
_________________
"I was trying to make some butter, but I think I made mayonnaise instead."

"Banana was my idea!"

"Binky, how rude. Can't you see I'm shouting?"

"Have you ever realized how frighteningly easy it is to manipulate someone into doing whatever you want?"

"I brought a label-maker. What needs identifying?"

"ROAR!"

"Pretty cool stairs."
Bunny Loremaster!





Posts

: 240


Join date

: 2014-06-13


Location

: Midwest, USA



this is how I am with food but I have been trying to change and am hoping to be able to do 10 crunches by the end of summer at least.
Arthur's Underwear





Posts

: 623


Join date

: 2016-05-29


Age

: 19


Location

: the bathroom



I thought DW was hilarious.
Ass of Jacks





Posts

: 435


Join date

: 2015-06-05


Age

: 23


Location

: Prison





Similar topics
---
Permissions in this forum:
You
cannot
reply to topics in this forum