I've been watching a lot of Arthur episodes recently and two things popped out to me.
BUSTER, BO, AND BITZI BAXTER.
Now, this seems like a simple story, right? Bo and Bitzi divorce, Buster stays with his mom but can live with his dad whenever he likes. BUT THEN YOU REALIZE: Bitzi kept Bo's last name to keep the spoils. It's said in the Arthur episode "Postcards from Buster" (Not the spin-off show itself, the backdoor pilot) that Bo's last name is "Baxter". They pass by a street sign that says "Baxter" and his dad chimes in "That's OUR family's name in chinese characters." And whenever Bitzi is mentioned by her full name, it's Bitzi BAXTER. Now, what could
want with the name of her ex-husband? Simple. He's a pilot. She gets all the free flying she wants. And I bet she could maybe steal some of his paychecks too. That sneaky rabbit

MISSING SIBLINGS
This one is the more interesting one, though we don't see much of it. There is a random background dog-girl that's around DW's age. She's always shown in preschool and barely has any lines, and she goes unnamed. However, look at who we see in "Sue Ellen's Little Sister" at what is specifically mentioned to be a SIBLINGS ONLY race.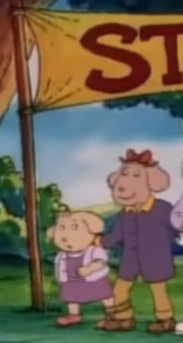 . Whenever we've seen Fern's home, she's never had a little sister. Hmm...
And what's even more interesting comes from a family that already has two siblings. Molly and James. Now, Sue Ellen's Little Sister comes waaaaaaaay before Molly started to get depth, much less her own episodes, and James wasn't even named yet, but James' character model clearly shows up. I think the first time it's stated James and Molly are related are in the episode where Molly and Arthur become friends. Now, look who James is racing with at the SIBLINGS ONLY race.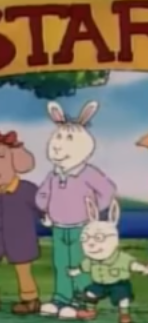 Who is this rabbit? Why is he here? In "DW ties the Knot", in a fantasy sequence James introduces DW to his family and while Molly is there, this white rabbit isn't.
What happened to this girl and this rabbit? I know what: Soylant Green.
Shady Character





Posts

: 33


Join date

: 2014-09-16



Muffy is using the two in her father garage to wash and clean repaired cars. Little hands can get into all the hard to clean trim areas. Is my bet.
Rather Unsavory Fellow





Posts

: 86


Join date

: 2017-03-02



Wretched Bastard





Posts

: 137


Join date

: 2018-08-31



shits liek my fucken dad think he workin@cars an got like allis fucken junk roudn yard n garagae back when im livin@homeb ut he aint do shit his goddam shitass jus layin roudn drinkin an fucekn lookin@goddam nascar lemme tell u his pigass aint en turn it off oernite so shits like 3 AM an tv all loud w RRRROOOOMMMMM RARRRRRRMMMMMM RRAAAAAAAARRRRRRRROOOOOOMMMMMMMM VROOOOOOOOMMMMMMMMMM oer his pigass snorin so JIC any u p33ps been wondr how come i aint able finsih HS or do shit@day i aint even able go sleep

i been think bout gettin GED tho cx i been turnin my shitass life round jus u watch
Pregnant





Posts

: 4415


Join date

: 2014-03-14


Location

: $ac



Now, why in the blazes have I never even questioned the fact that Bitzi and Bo still share the same last name despite being years-long divorced?  Good catch on that one.  I pondered the possibility of them maybe being separated but not legally divorced, but Buster's specifically used the D-word in the past, so we know that can't be the case.
But I think your explanation is probably the best theory we have on it for the time being.  Unless Bitzi's maiden name is also Baxter and poor Buster's the product of first degree incest, meaning that his lung problems don't stem from asthma alone but a much more serious incest-common complication like cystic fibrosis.

Village Idiot - Administrator





Posts

: 5623


Join date

: 2014-01-26



I all ways suspected two more things:

1. George has a stepmother.
2. Dave Winifred's ex wife and Thora Read's ex husband are in their second marriage ... with each other. The Read Family is so embarassed, that Grandma Winifred and Grandpa Read are never mentioned.
Rather Unsavory Fellow





Posts

: 62


Join date

: 2016-08-12





Similar topics
---
Permissions in this forum:
You
cannot
reply to topics in this forum